"You're Going To Lose That Girl"
---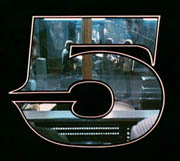 The Beatles are in a studio, recording "You're Going To Lose That Girl." They also manage to break several laws of physics in the process! If you look closely, you will catch a glimpse of another Paul playing the piano, and another Ringo playing the bongos, during this sequence.
As the song concludes, the recording engineer announces that they must record the song again due to a buzzing noise on the tape. As the song is played back, a distinct buzzing noise is heard. As the Beatles try to determine where the noise is coming from, we see a chainsaw carving a hole in the floor around Ringo's drum kit. The saw makes a complete circle in the floor and Ringo, drums and all, falls right through the floor!
The room Ringo has fallen into is filled with Kaili. As George, Paul, and John watch from above, the Kaili hold Ringo still as Clang approaches his hand with a chainsaw. Ahme arrives, sees what is about to happen, and throws a metal plate at Clang. She hits Clang squarely in the head, and he nearly slices Bhuta in half as he falls. Chaos ensues, and Ringo and Ahme make their escape.
Once they have escaped the room, Ahme urges Ringo to "FLEE!" Ringo wants to know who she is, and asks if she'll explain everything when the opportunity presents itself. She tells him to flee again, and they run off in opposite directions.
NOTE: Some of the screencaps for this scene came out a bit dark. I apologize for that - I tried to adjust the brightness/contrast as best I could, but the lighting is simply too dark in some of these shots. The good news is, this is probably the worst-lit scene in the film - the rest of the screencaps will be much brighter.
Back to the Summary Page
---