Attempts to Steal the Ring
---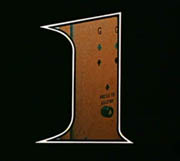 Ringo and John are in an elevator. Ringo asks John, "What first attracted you to me?", and John responds, "Well, you're very polite, aren't you?" Suddenly, we see a hand pulling a lever. It triggers a magnetic panel inside the elevator, which pulls John's watch, keys, and lighter against the wall. John is amused. Suddenly, Ringo's hand is magnetically pulled up to the elevator's ceiling. John simply laughs at Ringo's predicament. We then see a different hand pulling the lever. The magnet turns off, and frees Ringo's hand and John's belongings. Ringo and John simply act as if nothing happened, and wait for the elevator to reach their floor.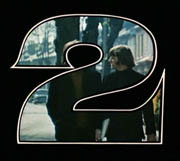 John and Ringo are walking down the street. (If you listen carefully, you can hear John reciting his poem "I Sat Belonely," from "In His Own Write," at the beginning of this scene.) Ringo stops to mail a letter. Bhuta is hiding inside the mailbox, and grabs hold of Ringo's hand. As Ringo struggles to free his hand, John asks him what he's doing. Ringo replies, "Posting a letter." Ringo pulls his hand free before Bhuta can get the ring off, and he and John quickly walk on. The "mailbox" also walks away.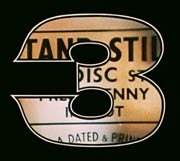 Ringo is alone and sees a scale that will give you your weight and fortune. He inserts a coin and holds his hand out for the little slip of paper he is supposed to receive. Instead, a razor blade comes flying out of the slot. It misses Ringo's hand, and he hurriedly walks away.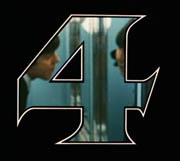 Ah, one of my favorite scenes. I'll try my best to summarize it, but this is one you really need to watch in order to fully appreciate. Paul and Ringo are in a public restroom. Paul hums a little tune, and appears annoyed when Ringo joins in. Ringo washes his hands and walks over to a hot-air dryer. He steps on the pedal, but instead of blowing out hot air, the dryer acts as a vacuum and sucks his hand into the opening. As he tries to pull his hand free, the sleeve of his jacket is torn off and sucked into the machine.
Paul notices what's happening, and as he tries to figure out what to do, his own sleeve (shirt and all) is torn off and sucked into the dryer. (I'm going to be nitpicky here and point out a continuity error. Ringo's hand is still stuck in the dryer when Paul's sleeve comes off. But we see Paul's sleeve get sucked into an EMPTY dryer! And in the next shot, Ringo's hand is back in the dryer opening. Whoops!) Ringo finally pulls his hand free, and he and Paul look for things to grab onto. Ringo grabs the paper towel holder (too bad he didn't he just use those in the first place!) and Paul grabs a sink. The sink comes right off the wall, and Paul gets a stream of water right in the face.
George and John, who probably heard the commotion from outside, enter the restroom. As soon as George enters, his shirt is torn right off! George and John can only grab onto the others and hang on for dear life.
We then see Ahme pulling another lever which turns off the dryer. She tells the audience, "I am not what I seem." The Beatles try to sort out what just happened (and Paul's skin is "soaked right through to the skin")! Ringo declares, "there's more here than meets the eye," which earns a round of "ho ho"s from George and John (and George literally laughs up his sleeve)!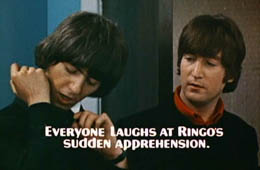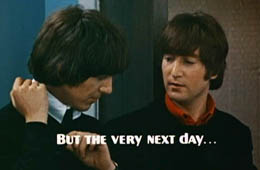 Back to the Summary Page
---