---

SEPT. 4, 2007 - BREAKING NEWS!!!
"HELP" TO BE RELEASED ON DVD NOVEMBER 6!
It's true! A 2-disc DVD of "HELP!", completely remastered with tons of extras, will be released in the U.S. on NOVEMBER 6, 2007. It will be distributed by EMI Music. Check out the press release for full details!
The Deluxe and Regular editions are both available for pre-order on Amazon.com. Order your copy today! (Link to Regular Edition should be working now. Argh!)
&nbsp&nbsp&nbsp&nbsp&nbsp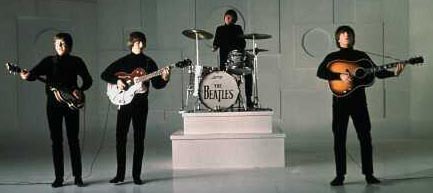 There is a very fine line between "hobby" and "mental illness." - Dave Barry
Welcome to Stop Worrying: A Tribute To "HELP!" This page is my humble tribute to the Beatles' second film, which was first released on July 29, 1965. Here you will find a detailed summary with screencaps, sounds, photos, information on deleted scenes, and more!
You might be wondering, of all the Beatles' noteworthy accomplishments, why create a site devoted solely to "HELP!"? It wasn't as well-received as the classic "A Hard Day's Night," nor was it as groundbreaking as "Yellow Submarine." It has a goofy, far-fetched plot and off-the-wall characters. The Beatles would later dismiss the script, complaining they were treated as extras in their own movie. And, let's face it, the lads were most likely stoned throughout the entire filming. :-) Even the most devoted Beatles fans will admit that this is not a classic piece of filmmaking by any means.
So why a site devoted to "HELP!"? Simple. I love it. I have an unhealthy obsession with it. So one day, I decided to combine my weird "HELP!" fetish with my love of web design, and here are results. I hope you enjoy it! Just select one of the links below, or use the menu to your left. Comments and suggestions welcome!
---

Cast
A listing of the cast and crew of "HELP!" Eventually, this section will also have descriptions of all the major characters.
Summary
A detailed summary of the film, including a gallery of images captured from the film. This section will be quite large. At the moment, the first 17 pages are up, with 498 screencaps!
Photos
A collection of "HELP!" photos that I've scanned or found throughout the web. There are currently 377 photos in this section, with more on the way!
Sounds
A collection of sounds from the film. All sounds are in .wav format. There are currently 47 sounds available!
Deleted Scenes
Information and photos (where available) on several scenes that never made it into the final cut of "HELP!" There are three scenes up so far, with 42 photos! And there are several more on the way.
Soundtrack
Track listings and information on the U.K. and U.S. editions of the "HELP!" soundtrack. *UNDER CONSTRUCTION!*
FUN!
A few fun "HELP!"-related things I've been working on. Check out the "HELP!" jigsaw puzzles, and the results of polls I've conducted in the past.
Features
Beatles photos, information, and other stuff that is not directly connected to the film "HELP!" Currently, this section contains screencaps from "The First U.S. Visit" film, with more features on the way!
Beatlegs
Beatles bootleg MP3 files for download! There are currently 61 songs available!
Links
My favorite Beatles-related web sites.
Web Rings
The various Beatles web rings that this site is a part of.
Vote For Me!
If you enjoyed my site, please vote for me in these Beatles Top Site lists!
Awards
The awards that this site has won from other Beatles web sites.
Shop
Shop for Beatles DVDs, videos, CDs, and books from Amazon.com and posters from AllPosters.com!
Beatleology
"Beatleology" is a separate web project hosted by this site (it is not directly connected to the film "HELP!"). Test your Beatles knowledge with this set of Beatles quizzes!
Sign My Guestbook / View My Guestbook
Love the site? Hate it? Got some questions or comments? Please sign my guestbook!
F.A.Q.
A list of frequently asked questions about this web site and about the movie "HELP!" *UNDER CONSTRUCTION!*
References
A listing of the books and other publications used in researching this site.
Disclaimer
Information regarding the sounds and images displayed on this site. Please read the disclaimer before using any of this material.
About Me
Learn more about EasternBird, the slightly insane creator of this site. ;-)
---

Want to link back to my site? You can use the above banner, if you'd like - just link it to: http://beatleshelp.50megs.com/

If possible, please save a copy of the banner to your own server; I'd prefer it if you do not link to the image directly as it eats up a ton of bandwidth! Thanks!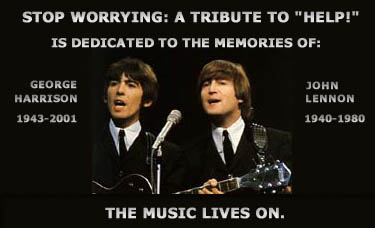 ---
&copy 2002-2006 easternbird@beatlemail.com. I can say no more. ;-)